As part of OI's Diversity and Inclusion monthly initiatives, our D&I Ambassadors from the Dhaka office have organised five transgender awareness sessions in collaboration with a local non-profit, the ZE Project.
We celebrate diversity at OI, and foster inclusivity in our workplace through our monthly D&I initiatives, covering topics as varied as gender stereotypes and heteronormativity, mental health awareness, and elimination of racial discrimination. Additionally, colleagues across our offices also collaborate with local charities and independently organise events to commit to their communities.
One such great initiative was organised by Aurelie Rob and Titly Ferdous from our Dhaka office, to mark our D&I theme for July, "inclusion". They invited facilitators from the ZE Project to conduct transgender awareness workshops with our colleagues, educating us about the gender spectrum and sharing lived experiences of persons of diverse genders.
How inclusive are we?
Aurelie and Titly began planning this event by discussing the harsh realities faced by communities that have been historically marginalised in society, such as people living with disabilities and the non-binary, transgender and other folk who struggle against gender norms. This is when Aurelie came across a LinkedIn post by the ZE Project that sparked a paradigm shift for her; written across the portrait of a trans woman were the words, "Would you hire me?"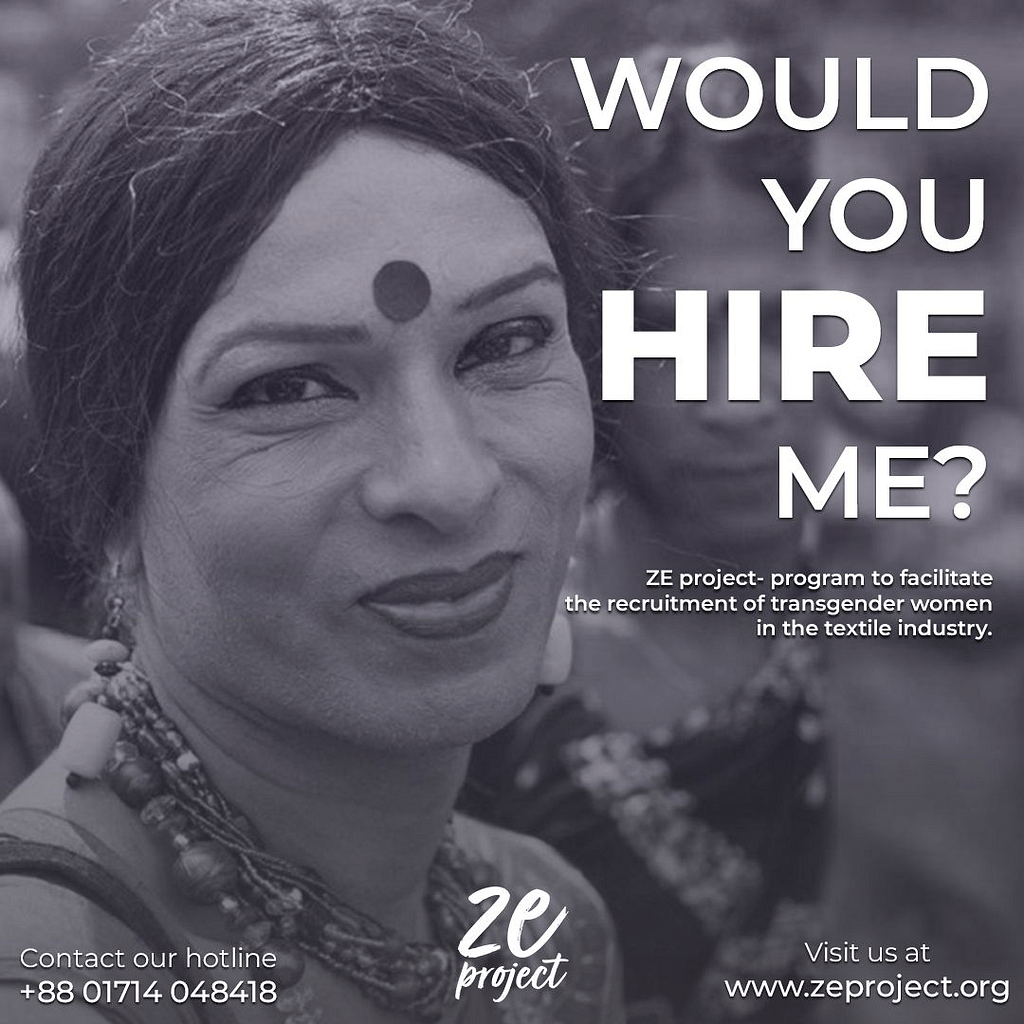 Aurelie and Titly then became motivated to learn more about the Transgender and Hijra community of Bangladesh. The term "Hijra" is only one of many names used in South Asia to describe a community of intersex and transgender people, who are typically isolated from wider society. Most lack a formal education because of this isolation, and so often face difficulties finding financial security by means of stable employment. Moreover, there are many myths and taboos associated with the community, reinforcing social barriers between the community and the general population.
(Image from ZE Project's LinkedIn)
What can be done?
"As I learned about the biology of diverse genders, I started to wonder why this is not taught in our classes?" Aurelie recalls. She then contacted the ZE Project, a non-profit based in Dhaka, that aims to empower people of diverse genders to find work. Their two-fold approach consists of first raising awareness and encouraging acceptance for the Hijra and transgender community, and then eventually helping them integrate into society.
OI Dhaka's Transgender Awareness Sessions
Facilitated by ZE Project Manager Mohammad Rofiqul Islam (who is lovingly known as Royal), these sessions are three hours of learning, interacting, and community-building. Royal is accompanied by three transgender people and a scholar whose area of research is the trans community.
They begin these sessions with the scholar giving a detailed presentation, explaining the concept of a gender spectrum while encouraging participation and reflection from our colleagues. After a short break, the transgender presenters share their life stories and open the floor for discussion.
For some in the Dhaka office, this is the first time they have become aware of the problems faced by the community. This is why, Aurelie explains, "the sessions are conducted in Bangla, so our colleagues can intimately relate to their different experiences. After all, our facilitators might well be our neighbours or relatives. Speaking in Bangla allows for this sense of familiarity to break social barriers."
Why is creating awareness important?
"After talking to Royal, I realised why we shouldn't just recruit transgender people but first cultivate open-mindedness to diverse genders," elaborates Aurelie. "Although our goal is to help the transgender people integrate into the community by empowering them to find jobs, this is impossible unless we take the time to break down the existing social barriers in a workplace setting". Based on the popularity and high praise from our colleagues who attended, these sessions seem to have successfully created such mindset shifts in our Dhaka office. In fact, due to high demand, Aurelie and Titly have had to organise five such sessions so a total of 125 colleagues could attend.
Moreover, amid a lot of positive feedback after the sessions, many participants also expressed welcomeness and acceptance for having transgender colleagues in our office.
"Other than social norms, one of the main barriers that transgender people face when trying to integrate into society on a practical level is a lack of relevant skills. Even if a company employs them, they are unable to perform well, furthering the distrust between them and mainstream society. Therefore, for us to create awareness is crucial as a first step" Aurelie summarises.
Pleased by the success of these events, Aurelie and Titly hope to continue working on encouraging open-mindedness and respect for the transgender community at OI. "Eventually, I hope we collaborate with experts like the ZE Project to help us assess what further steps can create acceptance for the diverse gender community of Bangladesh."
---
Check Our News and follow us on LinkedIn to see how else we live our values at OI!